"Formed by Fire and Ice" – Falling in LOVE With ICELAND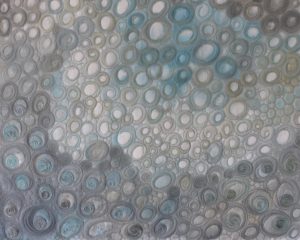 Jacqueline Heinz has been a quilter for 30 years.
Her passion are the natural structures that cover the quilt surfaces – undisturbed by seams – in flowing forms.
Nature proves to be the source of her inspirations – the secluded landscape of the dunes and beaches of the tidelands or the jagged world of mountains and glaciers of the Swiss alps.
Her newest works are a testimony of her love of the spectacular and manifold landscape of Iceland – an island formed in millions of years by fire and ice.
Besides these new works, Jacqueline will also show us some highlights of her quilt collection.
All images ©Jacqueline Heinz, used with kind permission of the artist.