No Time, New Beginning
During a city trip to Berlin, I became impressed by the ruins of the Kaiser Wilhelm Gedächtniskirche. May we never forget the history. The impressive blue glass in the tower along with the light entering from outside was the inspiration for this quilt. It is also called "Lipstick and Powder Box".

Every spring, the queen bee leaves the hive with some of her worker bees, to find a new home and to create a new hive. This is called swarming. I created this event on fabric I dyed myself, with handmade bees.

Lots of people, lots of traffic, every day and every night, faster and faster, that is today's life.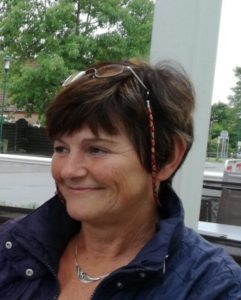 Elfriede Grooten is a quilter and florist from the Netherlands.
It seems like I've always had a creative vein. Quite early on in my youth I discovered that I liked everything that had to do with nature and fabric.

In my thoughts I can still see myself standing next to my grandmother's sewing cabinet. I was always allowed to help her with threading the needle. "You still have young eyes," she said. The cabinet's contents always fascinated me. I still remember a tangle of wool with different threads. Once in a while I sorted everything and granny was happy again.

My love of nature made me learn the profession of a florist. During my work, I am always imersed in colours and I have developed a good feeling for them. I like to apply this in my work with textiles.

This fascination for fabric has never diminished. I still love to be creative. I can really enjoy my fabrics and sometimes I find them too beautiful to use. Only recently I dyed a whole series of fabrics. Then there is a pile of beautifully coloured cotton patches, which makes me very happy. I don't think I'm the only one in quiltland. But I also enjoy making quilts. My biggest challenge is creating exciting colour compositions. I think the choice of colour can make or break a quilt.
All images ©Elfriede Grooten, used with kind permission of the artist.